AMS-Affiliated 0-3 Teacher Education Programme

AMS-Affiliated and MACTE-Accredited
Infant and Toddler Teacher Education Programme
2020-2021
  Our International Teacher Education Programme is the first and only American Montessori Society (AMS)-Affiliated and Montessori Accreditation Council for Teacher Education (MACTE)-Accredited Programme in Hong Kong, a milestone in Montessori education.
  AMS is widely recognised as the leading member advocacy organization, research forum, and resource collaborative for the global community of Montessori educators with members around the world. MACTE is one of the two Teacher Education Accreditors, and its constituency represents a broad range of educational institutions including AMS.
  This course prepares the adult learner for working with children 0 to 3 years old. The length of the Infant and Toddler Course is around 18 months. 210 Academic Hours and 540 Practicum Hours are required. Instruction is at Infinity Montessori Academy, Hong Kong. Practicum is at a full Montessori classroom
【Our AMS-Affiliated Early Childhood Teacher Education Programme 】
  Our TEP has been assessed by AMS and MACTE and have met their highest standards and requirements, with further enhancement for our local situation, in parent education, Chinese Language pedagogy, observation method and child development concept. We offer the best professional skills with comprehensive teacher training courses essential to adult learners to become highly qualified Montessori educators in their career. They receive AMS Credentials upon satisfactory completion of the academic phase and the practicum phase.
  Since 2006, our school has been actively advocating Montessori philosophy and education in Hong Kong, Macau and Mainland China. In the past eight years, we have organised five cohorts of AMS-Affiliated and MACTE-Accredited TEPs. The first three cohorts was cooperated with the Montessori Teacher Education Centre/SFBA, the fourth and fifth have been organised by our school. We also organised seven cohorts of Hong Kong Montessori Research and Development Association-Affiliated Teacher Education Programme and serves as the practicum site for student-teachers to put theory into practice.
  We will continue to serve Hong Kong and provide support for the wider Chinese community, improve teacher performance, assist more children and parents to receive excellent Montessori education, and uphold Montessori's philosophy to create a peaceful society of truth, good and beauty.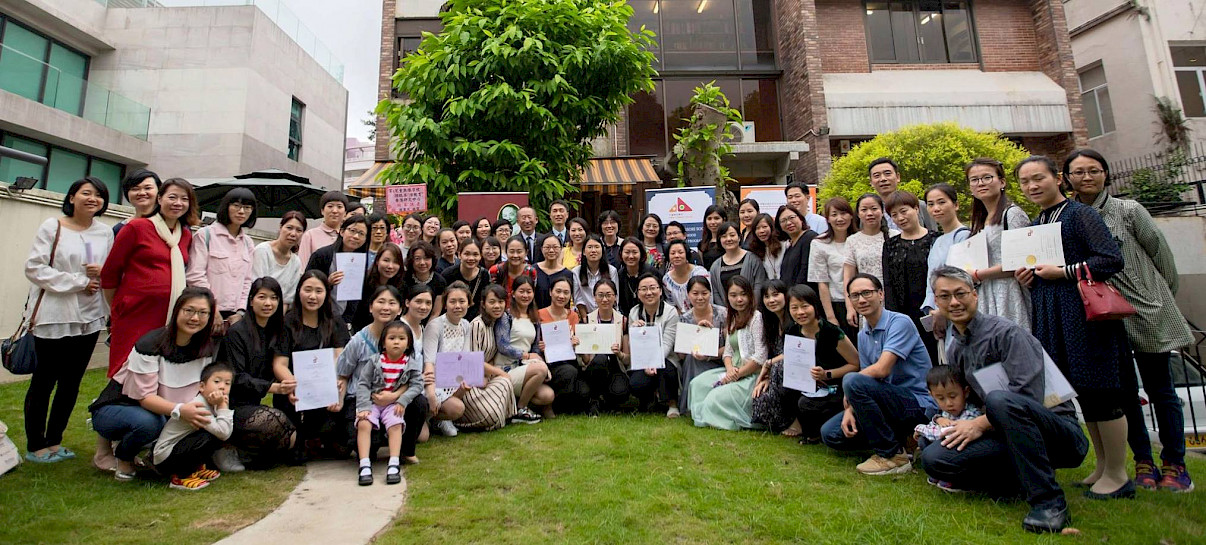 Excellent Faculty
Programme Director: Ralph Yau
Instructors: Crystal Lai, Daisy Lau, Ralph Yau
Academic Schedule: July 2020 to December 2021
Instruction includes: Montessori Philosophy, Pedagogy, Environment, Child Development, Observation, Art, Literature, Music and Movement, Program Leadership, Child, Family and Community, Peace Education, Practicum
| | |
| --- | --- |
| Overview of Montessori principles | 24 hrs |
| Montessori Philosophy | 24 hrs |
| Pedagogy | 32 hrs |
| Environmental Design | 24 hrs |
| Child Development: Prenatal to 3 Years | 45 hrs |
| Program Leadership | 8 hrs |
| Personal Growth and Development | 16 hrs |
| Observation | 16 hrs |
| Music and Movement | 8 hrs |
| Montessori Philosophy/ Peace Education | 8 hrs |
| Child, Family, and Community | 16 hrs |
| Program Leadership/Graduation | 8 hrs |
Practicum
The 540 hours of practicum/student teaching (3 hours a day, five days a week in a full Montessori classroom) is a necessary requirement for the successful completion of the Montessori Infant and Toddler Teacher Credential Course.

Minimum Entry Qualifications
Post-secondary Certificate/Diploma/Associate or Bachelor Degree (in any discipline)

Medium of Instruction
Chinese
*All terms and conditions are subject to change without prior notice.
Enquiry: infinitycw@gmail.com